Lighthouse - September, 2015.
A word of Gratitude
CSS India Director, Jairam K R speaks about their successful journey and their ambitions, in an interview with Lighthouse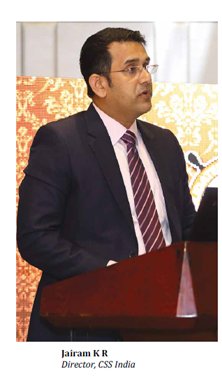 As a team leader for CSS India, could you please tell us about the success you recently achieved?
It's been a modest start from CSS India from Mumbai, Delhi & Chennai since 2007; however the Tirupur office was functional from 2004 onwards. From the beginning itself it was challenging and interesting at the same time. Since being in the industry for a very long period and having a very good rapport amongst the big and small players in shipping and logistics, my first focus was to put a proper and professional team in place when we began. Even though I have always believed in leading from the front, it's been an excellent team effort and each and every one at CSS has contributed in his/ her own way from day 1. Today having been completed this journey, I still believe that we have a long way to go and achieve.
How would you describe the position of CSS India today in the market?
Today CSS in India has grown to become a reasonable good service provider. We focus on small and middle level companies who contribute to more than 70% of our business.  We are on a consolidation mode currently. We have trust in ourselves and the service we provide. Being a thorough professional, we could hardly compromise in the quality of our rendition. It is this quality that propels our customers to stick on with us forever.
How has CSS evolved to meet your client's needs?
At Console shipping services India, every single customer whether small, medium or big are treated with respect and with utmost care and customer retention is our main focus. Even though its cargo, we know that it's wrapped up in somebody's sentiments. It is this understanding which has brought us the recognition as a client friendly cargo handler. We are open to discuss anything at any point of time regarding the job we are doing with our customer. This transparency has created a comfortable space within us and our client. In this technology driven world, CSS constantly upgrade our technology to stay Online with the market requirements.
After the recently commenced Ahmedabad office, do you plan for more presence in the country?
We plan to establish and consolidate our position first in Ahmedabad and then slowly diversify to other areas in Gujarat. We do extensive market study before opening an office in any location. Right now we have 9 offices in India and all these are managed by professional team. Major offices like Mumbai and Delhi can cater to the suburban areas and closer towns as well. Also we have satellite presence in small towns to work as support stations which we are not mentioning here. India being a very large country we need highly skilled and dedicated manpower to satisfy your professional requirements. Hence, we plan and strategize much prior to setting up an office.
Today CSS Group is seen as a global player in freight forwarding and logistics, how far CSS  India benefits with this recognition?
CSS Group consists of CSS Middle East and India. We have very strong presence in the Middle East like we have in India. Since the platform, agency network, the style of operation and the quality of deliverance are all same, that is of high standard, CSS Group as a single entity benefits largely from these and CSS India is no different.
What plans are in store for the immediate future?
The current market condition does not auger an expansion program. Every day is a new day and every opportunity is a chance to learn more. We are using our resources to enhance the present offerings in the market and strengthen our consolidation business. We have plans to enhance the CRM features in the software which are under discussion with our IT department. At the same time, we are adding another vertical to our business and this is Airfreight. We are working towards acquiring our own IATA in this regard.