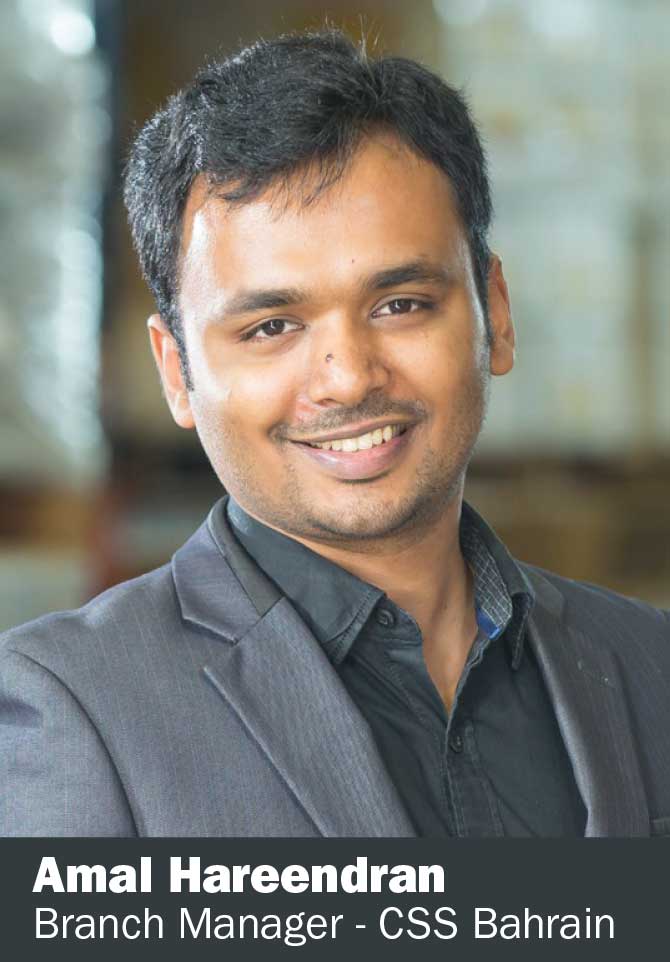 Have started with CSS in the year 2010 as Coordinator in Projects, Oil & Energy Department, I have seen my career progress. I later moved on to become the Operations Manager at CSS Abu Dhabi. Currently functioning as the Branch Manager of Console Shipping Services W.L.L, the Bahrain branch of CSS, my 11-year career at CSS has awarded me with opportunities galore. 
I was privileged to work at CSS locations across the region and beyond. From Dubai, Abu Dhabi, and Sharjah to Oman and Kochi, I have been entrusted with various responsibilities and roles, which has enhanced my skills and experience in all aspects of Logistics.
Surmounting the Odds at CSS Bahrain 
CSS Bahrain branch was restructured and launched as a new branch in October 2019. The challenges ahead are many – we need to bring in new clients and raise and build up a whole new team. The limitation of being a small market with increasingly high competition, the COVID-19 pandemic, and the ensuing problems have added to our challenges. 
But despite these concerns, the Bahrain branch has shown stellar performance above expectation in the year 2020. It was indeed a remarkable year for CSS Bahrain. My heart swells with pride as I lead a dedicated team along with the full support from the top management, the wind beneath our wings.
Strategies Ahead
The way forward for CSS Bahrain is simple and straightforward.
First and foremost on our strategic plan, we aim to increase the reach of CSS Bahrain to new customers every day, without compromising the services we extend to our existing customer base in the island nation. We will strive hard to maintain the high standards of excellence in service levels. Continuing the CSS Group's legacy, we have committed to doing business with utmost dedication to Fair Business Ethics. 
Last but not least, we will work together to keep up the morale of all the employees and team members at CSS Bahrain
Looking Past 2020
The year 2020 brought a downturn to every industry and affected general trade the world over. But with the vaccination drives being rolled out across every nation, we can expect a resurgence in the market in 2021. CSS Bahrain intends to venture into upcoming project movements and tap into the potential clients amongst government entities in Bahrain. 
Our five-year plan includes our vision to be an NVOCC market leader in Bahrain, providing competitive rates and excellent service by maintaining Fair Policy Business Ethics. We also see ourselves as a Freight Forwarder par excellence with the capacity to handle general forwarding and project movements in the region.
Onward and Ahead
Though we face the imminent threat of targeted competition, underquoting, volatility, and rate increase due to the impact of COVID-19, there is plenty of opportunities as well. A huge untapped market is actively on the lookout for a freight forwarder with market-leading logistics solutions. 
Maintaining good relationships with our existing client base will enable us to get accurate feedback. We have also decided to go by the fair policy. No matter what, we will adhere to not under quoting whatever the competitor strategy might be.
With the CSS Group's focus on the GCC region, the newly started Bahrain branch will contribute to the NVOCC and Forwarding business of the CSS Group by building on the network partners. Our aim remains to: 
Ensure 100% customer satisfaction

Ensure 100% employee satisfaction

Achieve the company targets
We look forward to finishing the year in flying colors by repeating and outperforming the excellent performance we displayed as we opened our innings at Bahrain.