Lighthouse - January, 2014.
Cargo Ball 2013 CSS Joins for a Glittering Evening with Cargo Fraternity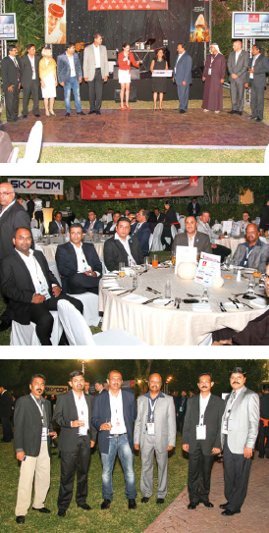 The 4th Annual Cargo Ball 2013 is a premier non formal cargo industry event in the Middle East filled with a glittering evening of entertainment and international buffet dinner, attracting participants from the entire freight forwarding and logistics industry from around the world. The event was held on Thursday 28th November at Jumeirah Creekside Hotel in Dubai, United Arab Emirates.
The event was well attended by senior representatives from airlines, freight forwarders, logistics and ground handling agents and the evening aided all the attendees to come together to build industry partnerships and long-term business relationships.
"Cargo Ball 2013 is an occasion to mix business with a social gathering, at the same time contributes to a worthy cause. The general setting was a business networking session to consolidate current connections, revive old ones and even establish new contacts, all this in a cordial and social environment. In addition we are contributing to a worthy cause in the community – Al Noor Training Centre for Children with Special Needs," added Jacob Isaac, General Manager Air Freight, CSS.
The sponsors and delegates in association with the organizers Arabian Reach FZ LLC donated 20% of the event revenue to the "Al Noor Training for Children with Special Needs" a special project dedicated to the welfare of the special needs children.
Al Noor Training Center for children with special needs has been in existence since 1981 and provides quality and effective training to the special needs community of Dubai. The center supports children with challenges such as Downs Syndrome, Cerebral Palsy and Autism. These are addressed through special education methods, physiotherapy, speech therapy and occupational therapy. Al Noor also has its own work placement unit, which trains children with an aptitude for open employment.??CSS Group since its inception has continually worked closely with the Al Noor Training Center to raise awareness about children with special needs not only through gala dinners, but also by way of souvenir magazines, directories and advertisements.
The CSS delegation who had attended this event included, Sreenath.V, Senior General Manager, Projects, Oil & Energy/Ops, Siby C. Kurian, Senior General Manager, Sales & Marketing, Rakesh Menon, Senior General Manager, CSS Logistics, Ajay Krishnan, Senior General Manager Ocean Freight, Jacob Issac, General Manager Air Freight, Suku Sudhakaran, General Manager, CSS Homeward Bound, Fida Asghar, Team Manager, NVOCC, Roshmon Manoli, Route Development Manager, North America, Amith Horra, Marketing Manager, and Baiju Sadanand, Manager Operations, Air Freight.