Lighthouse - March, 2010.
CSS AT BREAKBULK ASIA TRANSPORTATION CONFERENCE AND EXHIBITION
In a competitive business environment, the global recession had a little impact on the recently concluded 2nd Annual Breakbulk Asia Transportation Conference and Exhibition. The exhibition was held at Suntec Convention Exposition Centre in Singapore. A total of 1,939 attendees traveled from all over the world to network with some 120 exhibitors and attend two days of panel discussions featuring industry leaders addressing the specialized challenges and transportation trends facing the breakbulk and heavylift sector.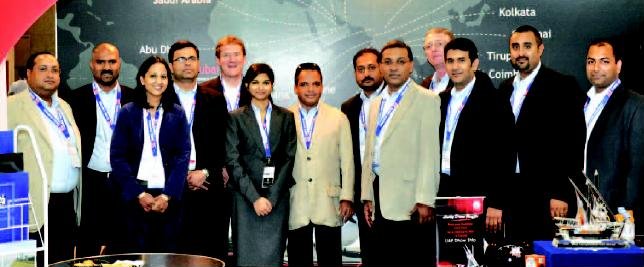 As stated by Peter Tirschwell, senior vice president at UBM Global Trade, which owns The Journal of Commerce and JoC Events, the organizer of the event "The record attendance outpaces last year's crowd by 21 percent, a figure that we believe indicates the heavylift sector in Asia is definitely in a recovery mode."
The Breakbulk Asia show provided CSS with a great opportunity to highlight products offered, services to attendees and network with key market players, shippers, forwarders, carriers, and other transportation provider's in the Asia-pacific region.
CSS Group delegation was led by The Group Chairman, T.S. Kaladharan and the team included Raj George (Senior VP – Ocean Freight), Jairam K. R. (Director – CSS India), Rakesh Menon (Senior General Manager – Business Development), Sreenath V. (General Manager – Projects, Oil & Energy), Narayan R. T. (General Manager – CSS Bahrain), Siby C. Kurian (Dy. General Manager – Sales & Marketing), Suku Sudhakaran (Asst. General Manager – CSS Abu Dhabi), Amith Surya Horra (Marketing Manager), Anita Baker (Manager – CRM ) and Neyha Nurie (Marketing Coordinator).
CSS Booth # C21 & C22 was strategically located to highlight CSS's strong presence in the Middle East and India with corporate headquarters in Dubai and offices in Abu Dhabi, Bahrain, Doha, Kuwait, Muscat and Saudi Arabia and 12 offices in India. Moreover, it was a perfect platform to showcase its strength and competencies in the areas of expertise for Projects, Oil & Energy and indulge in key networking sessions promoting interaction among its clients, associates and visitors.
As a token of appreciation, CSS had made arrangements to raffle a Crystal Dhow ship, for which the lucky winner was picked by a raffle draw at the CSS booth.
Luck is when opportunity meets preparation. Exhibitions and trade shows prepare us to be lucky in our business – Raj George
In a competitive business environment exhibitions are vital to raise market awareness and develop new markets; they have become crucial across the globe as they are an important promotional tool for your business – Rakesh Menon
It was a great opportunity to promote the presence and expertise of CSS group to a wider audience within the vast expanse of our industry. The show has also helped us to develop further contacts and also help boost our ties with our existing vendors and operators – Sreenath V
Exhibitions are indeed a great platform to meet with a multitude of other operators and clients to develop a range of business possibilities. These global events will give CSS Group an opportunity which allows face-to-face contact with clients, where CSS will be able to efficiently build professional relationships in the most lasting and effective manner – Narayan R T
Exhibitions are an opportunity to market ourselves, and it is not just targeting customer but also suppliers and other partners as well. It was a great opportunity for us to market CSS Abu Dhabi and we did draw a lot of attention amongst the exhibitors and visitors for having a strong presence in Abu Dhabi, UAE – Suku Sudhakaran
Trade Exhibitions helps us to better understand our industry, in order to advance our selling ideas – Siby C Kurian
Maintaining a presence in corporate marketing and trade shows is critical to a company's growth and success as it is the most efficient & effective way to make multiple customer contacts in a short period of time- Amith Surya Horra