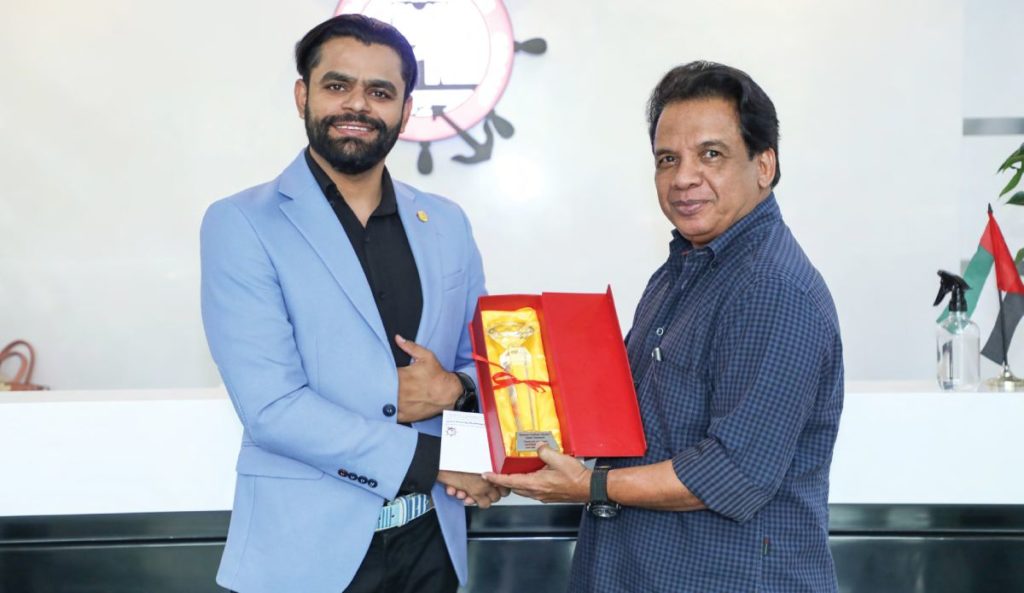 In recognition of their entrepreneurial success, Chairman Mr. T. S. Kaladharan felicitated Mr. Qamar Sultan Qadri, Managing Director, Qadri Transport, commemorating the company's long and reputable service in the industry.
20 Years of Operations
Recently, Qadri Transport completed 20 years of commendable operations in the UAE. Beginning with the forklift rental and repair business, Qadri Transport expanded into various business verticals in 2002. The business specializes in heavy transport, forklift rental and repairs, packing and packaging, and trade. The company has been associated with CSS for a long time, being a valued stakeholder in CSS operations. Apart from CSS, the company provides its services for several multinational companies, including Aramex, DHL, UPS, Caterpillar, Continental Alloys, Hellmann Worldwide Logistics, and Expo 2020.
Qadri's Journey So Far
The young Qamar Sulthan Qadri has reached this enviable position after considerable hardship. Having lost his father at 16, Qadri had to step in to work to bring in income for his family. He started as a forklift operator and worked his way up to being an owner of forklifts. His success can be attributed to his rock-solid values of honesty, integrity, and hard work. He also has an impeccable track record and, therefore, enjoys amicable relationships with his clients and also his team. Today, Qadri has a strong footing in the UAE, especially in the Jebel Ali Freezone. He has also added a brand-new mobile crane to his fleet.
Kaladharan Congratulates Qadri for the UAE Golden Visa
This timely recognition from the Chairman comes when the UAE government has awarded Mr. Qadri the Golden Visa. In an interview with Emirati TV Channel and Khaleej Times, Mr. Qadri has been distinguished as the first Pakistani recipient of the Golden Visa. He is also the youngest business person in his field.
The Golden Visa is a long-term residence visa that enables foreign talents to live and work or study in the UAE while enjoying exclusive benefits. Investors, entrepreneurs, scientists, outstanding students and graduates, humanitarian pioneers, and frontline heroes are eligible for the Golden Visa.
On this heartening occasion, CSS team joins the Chairman in wishing Mr. Qadri and his company more tremendous success.