Lighthouse - July, 2012.
CSS Group Attends GPLN Global Annual Meeting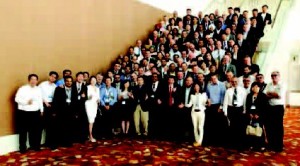 Global Project Logistics Network (GPLN) conducted its 9th Annual General Meeting at the Marina Bay Sands Expo and Convention Center, Singapore, on May 9- 11, 2012.
CSS Group was pleased to be the exclusive sponsor for the GPLN Annual Meeting Cocktail reception that was held onboard the Ming Dynasty imperial vessel on May 9th 2012. The "Cheng Ho" allowed participants to soak in attractive sights of little vessels anchored in Marina South Pier bay, The Singapore Flyer, Sentosa Cove, Tanjong Pagar Container Port – the busiest in the world by shipping tonnage and the coastline of Singapore's pleasure isle, Sentosa.
TS Kaladharan, Chairman, Raj George, Senior Vice President Ocean Freight,  Narayan RT, General Manager CSS Bahrain, Amith Horra, Marketing Manager, Chandrakala, Asst. Manager NVOCC and Amal Hareendran, Coordinator, Projects, Oil & Energy department attended the GPLN Annual Meeting Cocktail reception representing CSS Group.
Raj George, Senior Vice President Ocean Freight, CSS Group and Narayan RT, General Manager CSS Bahrain represented CSS Group during the 2 day GPLN Annual Meeting whereby they were able to network with various members discussing various trends and market forecasts within the industry.  "It was an excellent opportunity to meet a multitude of partner companies to discuss past, current and future business, exchange sales leads, and develop a range of business possibilities within the GPLN Network," added Raj George.
About GPLN Annual Meeting:
GPLN brings together project cargo experts and independent project logistics specialist companies from around the world, all of whom have an expert focus on project logistics. This global meeting will allow members the face-to-face contact with other GPLN partners whereby they will be able to efficiently build professional relationships in the most lasting and cost effective manner.