Lighthouse - January, 2011.
CSS Sales Strategy Meet 2011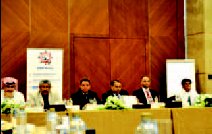 The annual CSS Sales Strategy Meet 2011 was held at the Jumeirah Meydan Hotel in Dubai UAE, on the 25th & 26th of November. In attendance at the event were CSS Senior Management and Department Heads from the Middle East and the Indian Sub Continent. In addition, special guests Oliver Hahn from IFS Doha, Dean Landers from CSS Kuwait and Wendy Hain from Spatial Group were also present.

The theme for this year's meeting was "Tomorrow is Yours" – CSS is starting a Green Tomorrow for All, Today.

The Annual Strategy meet held every year is a platform on which the key players within the CSS Group present their achievements of 2010 and the annual budget followed by their action plan for the year 2011 and receive feedback from other departments. The core purpose of the Strategy Meet is to evaluate the performance and to analyze the new market trends and the areas of business that are a crucial element of the continuing development of CSS core businesses.

On the 25th evening a Gala dinner was organized for the meet attendees and the main attraction was the live horse racing from the Jumeirah Meydan Hotel racetrack.

Amith Horra, Cheryl Annes, Chandra Kala and Deepu S Dev headed the CSS Sales Strategy Meet organizing committee. CSS extends its gratitude to all those who had participated and truly appreciate everyone's support and cooperation in making the annual CSS Sales Strategy Meet a success.