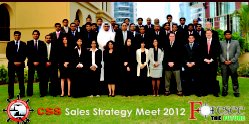 Foresee the Future..!! Since its inception 16 years ago as a freight forwarding company, established in Dubai, UAE, CSS has achieved several milestones over the years. By foreseeing the future prospects we have broadened our expertise to cut through new horizons in the global frontier by generating new business alliances and also introducing new products in the market, which means, we need to understand the current changes that will benefit us in the future or the risks we need to learn to avoid.

The CSS annual Sales Strategy Meet was held at the Mövenpick Hotel Jumeirah Beach on 10 and 11th of December 2011. The CSS Senior management and various department heads with overseas guests Oliver Hahn from IFS Doha, Jairam KR from CSS India, Dean Landers and Hussain from CSS Kuwait were part of the sales meet. The department heads gave presentations about the achievements and sales activities for the year 2011, which was reviewed by the senior management. They proposed ideas and strategies for the upcoming year 2012. The core purpose of analyzing the market trends and the business prospects in the market, the sales meet gives an accurate platform for the different departments to discuss and share valuable business aspects which helps in the future development of the company. There were breakout sessions with team building activities, which helped the attendees to take a break and also socialize as different groups.

Amith Horra, Chandrakala, Cheryl Annes, Deepu S Dev, Narayan and Bijesh headed the CSS Sales Strategy Meet committee. CSS extends its sincere gratitude to all attendees and are thankful for the cooperation it received to make this event a grand success.