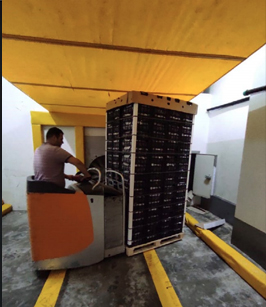 World over, there is hot demand for cold boxes.
According to the Drewry, the shipping analysts, this demand rises out of the need for fresh food. The volume of fresh food shipped across the oceans is twice as high as other products.
"Reefers" or refrigerated ships and shipping containers transport perishable commodities by sea. Put simply, reefer containers are large fridges carried by container ships to move temperature-sensitive goods such as meat, vegetables, and fruits, dairy products, pharmaceuticals, etc.
Reefer containers maintain the cargo at the required temperature (usually between -30°C and +30°C) for the whole duration of the transit either in chilled, frozen, or controlled temperature.
CSS Capability in Reefers
CSS has been into reefer container shipping and has sufficient experience in this field. When facilitating the shipment, we arrange the freight, coordinate with all suppliers paying close attention to critical logistical details to ensure a seamless transportation process for our clients. All the relevant documentation and operational procedures are handled at the origin with the utmost care to ensure compliance at all levels.
The reefer container ship is fully equipped with reliable power and backup power sources. The temperature-sensitive and perishable goods are packed carefully to allow proper air circulation throughout the transit. Monitored throughout the entire transportation process, we track the reefer shipment in real-time so our clients can enjoy complete peace of mind once they entrust their reefer movements to CSS.
CSS Sri Lanka Ensures Global Foods Fresh at Your Doorstep
In July 2020, CSS Sri Lanka rolled out the reefer project, this involved the reefer movement of fresh potatoes, garlic, and grapes from China and pomegranates and dates from Egypt
Based in Colombo, the CSS team, Sri Lanka meticulously planned and coordinated with the suppliers for potatoes, garlic in Mainland China and, grapes, pomegranates, and dates from Egypt. The documentation and other operational procedures for transit from China to Sri Lanka were done as per the stipulated laws and regulations.
Ms. Menusha Srilankeshwara, the Branch Manager at CSS Sri Lanka, says, "CSS has handled reefer containers all along, and I have about 10 to 15 years' experience in doing reefer movements. Having handled commodities such as coconut water and all coconut-based products along with fresh seafood like prawns to fruits, vegetables, and other perishables, CSS Lanka has the capability to bring fresh food from across the world to your doorstep."
The plans are in the pipeline to handle shipment of sugar from India as well. At CSS, we are well versed in the critical elements involved when it comes to refrigerated cargo.
Need for Fresh Food and Hot Demand for Reefers 
Today, consumers across the world expect to have the freshest produce and goods throughout the whole year. Refrigerated containers or "reefers" can keep food fresh for more than a month, allowing distributors to safely send everything from orange juice to lobsters around the world.
The growing affluence of the global population, especially in Asia, has boosted demand for international foods. The affluent class in Asia has an increasing demand for fresh fruit, vegetables, and fresh meat. This demand is pushing the logistics industry to move more products under cold management.
The uncertainties of 2020 have made one thing clear – fresh fruit, vegetables, frozen foods, and pharmaceuticals are 'essential,' and moving them to where they are needed is vital.