Lighthouse - September, 2012.
CSS Welcomes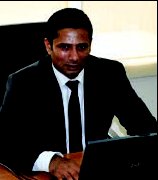 As part of its commitment to clients and agency partners alike, CSS Group endeavors to ensure that highly professional and experienced teams are always on hand to provide exceptional service worldwide. Therefore Ajay Krishnan has recently been appointed as
Senior General Manager-Ocean Freight.
With over 15 years of experience in the Shipping and Logistics field Ajay brings with him a host of experience with milestones in years of recorded profitable business growth and proven innovation that contributed positively to his previous company's growth. Previously, Ajay Krishnan was the Managing Director of the United Arab Emirates with APL, a leading global container transportation company.
When asked why he chose CSS Group, Ajay says, "CSS has over the years established a tremendous amount of industry goodwill. The brand value of the group has increased exponentially since its inception, mainly due to the stability of the senior management and the dynamism of the organization."
The only challenge that Krishnan sees himself facing is the transition from a liner to a freight forwarding logistics industry. However he believes that with a realistic approach and his passion for taking on challenges headfirst, the transition will be smooth.
Having started out in APL in 1997, as a customer service representative and since then grown to the post of Managing Director, it is clear that hard work is no stranger to Ajay Krishnan. On behalf of the entire team at CSS Group and the Senior Management we welcome him to the CSS family and wish him all the best.