Lighthouse - September, 2016.
Destination Wedding
CSS FAMILY RECENTLY WITNESSED A FAIRY TALE LIKE WEDDING AT PHUKET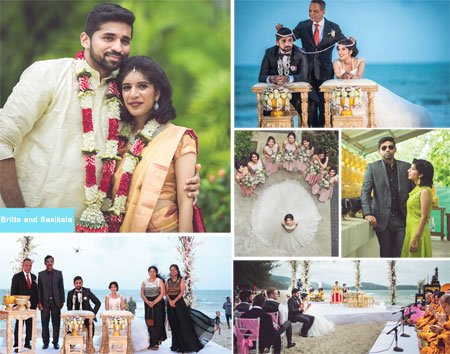 Destination weddings are becoming the buzzword in the Indian Culture as well. Recently CSS got lucky to witness a destination wedding. T S Kaladharan, Chairman of CSS Group arranged her daughter's wedding in the dream like, exotic destination of Phuket.
He wanted his daughter Sasikala to wed Britto in a location he was particularly fond of – Phuket, the idyllic paradise in Thailand. Phuket – a tropical paradise in Thailand known for its mesmerising aqua blue waters, white sand beaches, glorious mountain views and the heart-warming Thai smiles!
Sasikala, daughter of Mr T S Kaladharan & Mrs Devika Kaladharan, was born and brought up in Dubai. After completing her graduation from Raffles Design Institute – Singapore, she joined the family business and currently heads the marketing division in Dubai. Britto, the eldest son of the South Indian movie producer Mr Satheesh Kuttiyil and Adv. Syra Satheesh, was born and brought up in Kerala. After completing his bachelor's in aerospace engineering from Nottingham University, he stepped up to become a noted research scientist at Montan University, Austria.
The bride's family hired Rainmaker Weddings to plan and organise the event. Dusit Thani Laguna Phuket and Hyatt Regency Phuket Resort, two exquisite havens overlooking the breaking sounds of the waves on the famed Phuket beaches were the venues of the function.
The entire event comprised of a North Indian and Thai fused Mehendi ceremony named Daawat-E-Mehendi, for which the couple were accompanied to the venue by Serng Kratip Khoa performers – North Eastern Thai long drum musicians and dancers. The event ended with guests dancing to Bollywood music by Kerala-based DJs Ryan & Shamil. Next was the event Sangeeth, which was themed South Indian– Why This Kolaveri Nite for which the couple and their friends danced to choreographed numbers and the rockband Thaikkudam Bridge kept the gathering on their toes. The conventional Hindu Kerala wedding and Sadhya termed as the Maangalyam Sadhya and, the finale, traditional Thai wedding called Thai Vows followed by Cherry Blossom themed western reception named as Sakura Ball.
The event was well attended by invited guests, friends and family from around the globe and the invited staff members from CSS Group, company's stake holders and network partners. Renowned personalities from the Indian film industry and Politics were among the guests. CSS Group wishes the couple a happy and joyful wedded life.