Lighthouse - September, 2014.
He Reem Al Hashimy Makes Presentation To Bie

HER EXCELLENCY REEM AL HASHIMY, MANAGING DIRECTOR OF EXPO 2020 HIGHER COMMITTEE AND MINISTER OF STATE FOR THE UAE, UPDATED THE GENERAL ASSEMBLY OF THE BUREAU OF INTERNATIONAL EXPOSITIONS (BIE) ON THE UAE'S PREPARATIONS FOR HOSTING EXPO 2020, IN PARIS LAST MONTH.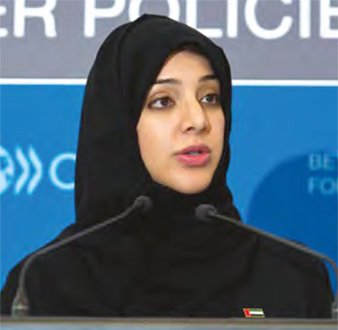 Her Excellency Reem Al Hashimy, Minister of State for the UAE, updated the General Assembly of the Bureau of International Expositions (BIE) on the UAE's preparations for hosting Expo 2020, in Paris last month. This was the first formal address to the General Assembly made by the Expo 2020 Higher Preparatory Committee since winning the right to host the World's Fair. "Dubai Expo 2020 will be the platform to continue to execute on our country's visionary leadership around the need for connectivity and mobility, economic opportunity and sustainable practices as the pillars of today's interdependent world," she said, in her speech to the assembly. "The infrastructure and the progressive policies that serve this vision will continue to grow in size and quality to serve the participants and the visitors of Dubai Expo 2020. Our goal to deliver on an Expo with seamless operations will leverage the national efforts to implement a greater vision shaping the next 50 years of our country," she added. Al Hashimy also pointed out that while Expo2020 was a win for Dubai, the event will also have great impact throughout the MENASA region. "The tremendous support we received in November marked a significant victory, not only for us but for all countries across the Middle East, North Africa and South Asia. Our support base ranged from the countries of the North as well as the South – the East as well as the West.?This recognition furthers our commitment to develop an inclusive platform that allows our partners on this global stage to truly showcase the best they have to offer, and — in that journey — create linkages and partnerships with others," she said.?The delegation to the BIE was led by HH Sheikh Ahmed Bin Saeed Al Maktoum, President of Department of Civil Aviation, Chairman and Chief Executive of Emirates airline and Group and Chairman of the Expo 2020 Preparatory Higher Committee. "The Dubai Expo 2020 road map is well progressed as we resolutely honour our commitment to create a truly transformative World Expo, that through partnerships and collaboration will seek to foster innovative, inspirational and practical solution-creation for our collective future," said HH Sheikh Ahmed.