Lighthouse - January, 2012.
Heavy Equipments – CSS Abu Dhabi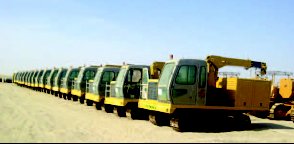 CSS Abu Dhabi has successfully completed the export of 26 units of welding machines along with 3 containers. The cargo volume was approximately 1400 CBM and the machines were exported from Jebel Ali to Xingang for one of the most valued customers based in Abu Dhabi. The heavy equipment department at CSS Abu Dhabi with the support of Ken Dinnadge, V P Business Development and under the supervision of Sujin Asst. Manager – Sales and his team, handled these cargos. The cargo was transported using low-bed trailers whilst arranging the lashing and securing done onsite under the supervision of CSS Abu Dhabi. Strategically located throughout the world, CSS has the global expertise and business alliances that specialize in heavy equipment movements worldwide. Local Knowledge with Global Expertise.