Lighthouse - November, 2013.
History of Containerisation

The history of trade dates back thousands of years before containerisation. People traded across oceans and lands, sailing the world in search of various goods and commodities that their countries did not have, everything from traded food, jewels and materials to new treasures.
Shipping before 1850 was difficult, expensive, and irregular, dominated by wooden ships using sails propelled only by wind. Later, the development of steamships made transportation cheaper and less risky. Getting goods on and off ships has historically been a bottleneck. A large part of the cost of international trade was taking the cargo off the ship, sorting it out, and dealing with the pilferage that took place along the way. Therefore the advent of containerisation brought about a massive transformation.
Containerisation has its origins in early coal mining regions in England from the late 18th century onwards. By the 1830s, railroads on several continents were carrying containers that could be transferred to other modes of transport. Before World War II, US, British and French railway companies experimented with methods of sealing goods in different sizes and shapes of boxes before transporting them. However, lack of specialised equipment like cranes for loading and unloading cargo combined with resistance from unions made it difficult for the development of container shipping till 50's.
During World War II, the United States used specialised containers to speed the loading and unloading of transport ships. These reusable containers were used for shipping household goods of officers.
In 1955, former trucking company owner Malcom McLean worked with engineer Keith Tantlinger to develop the modern intermodal container. The challenge was to design a shipping container that could efficiently be loaded onto ships and held securely on long sea voyages. The result was an 8 ft. tall by 8 ft. wide box in 10 ft. long units constructed from 2.5 mm of thick corrugated steel. The design incorporated a twist lock mechanism atop each of the four corners, allowing the container to be easily secured and lifted using cranes. On April 26th 1956, McLean put 58 containers on board a refitted tanker ship, SS Ideal X and sailed them from Newark to Houston.
The immediate result of the first US container journey was a substantial saving in the cost associated with moving cargo piece by piece from truck or railcar from the warehouse, onto the ship, and then unloading at the destination port, to the warehouse and then again on the truck or railcar. Containerisation revolutionised this multiple handling of cargo by increasing port labor productivity through mechanised loading and unloading of containerised cargos.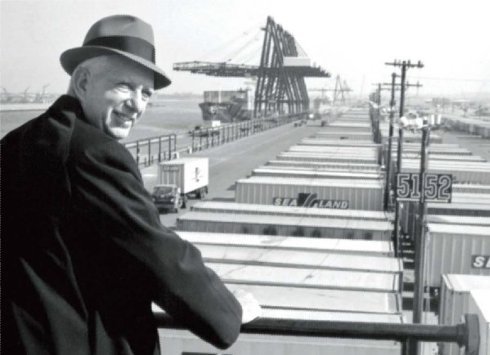 The 1956 container operation by the Ideal X involved a ship and cranes that were designed for other purposes. Three years later the industry saw additional savings through the building of purpose-built container cranes followed by the large purpose-built containerships.
From a transportation technology perspective, containerisation resulted in the introduction of intermodal freight transport, since the shipment of a container can use multiple modes of transportation -ship, rail or truck- without any handling of the freight when changing modes.
It was a logical next step that container sizes could be standardised so that they could be most efficiently stacked and so that ships, trains, trucks and cranes at the port could be specially fitted or built to a single size specification. This standardisation eventually spread across the global industry.
To realise intermodal cargo transport, all areas of the transport chain had to been integrated. It was not simply a question of putting cargo in containers. The ships, port terminals, trucks and trains had to been organised and adapted to handle the containers.
In 1956, the UN Economical Commission for Europe defined a container transport unit with characteristics later reformulated by ISO – as a transport equipment of permanent character suitable for repeated use, designed to suit multiple modes of car without having to restuff, fitted with devices permitting its ready handling, particularly its transfer from one mode of transport to another, designed to be easy to fill and empty, having an internal volume of 1m3 (35.3 ft.3) or more'.
These containers were only a box of different sizes. It was only in 1970 that the sizes were standardised. The 20-foot container, referred to as a twenty-foot commodities equivalent unit (TEU) became the industry standard reference with cargo volume and vessel capacity now measured in TEU. The 40-foot length container – literally 2 TEU – became known as the Forty-foot Equivalent Unit (FEU) and is the most frequently used container today even though the industry primarily refers to handling and capacity by TEU.
Various types of specialised container types also emerged over time, notably the 'reefer' for temperature controlled cargoes and various types of equipment capable of unitising odd sized (OOG), heavy cargoes, as well as liquefied commodities.
Containerisation gave birth to a new era of improved efficiencies – meaning that the ships spent less time in ports, had shorter transit times, used less labour and increased customer efficiencies since they could meet stock requirements on time. The containers also reduced damage and pilfering and also made documentation easier.
Since the 1950's, containerships have evolved tremendous , from the Ideal X's to 3000 TEU capacity vessels in 70's, 4,000 in 80's, 7,000 in 90's, 16000 TEU vessels currently sailing.
The need for even greater efficiency and capacity has led to the next generation of mega ships – the Triple E's; which will come into service this month capable of carrying 18,000 TEU – three times as many as the biggest container ships 15 years ago.