Lighthouse - January, 2014.
IGS Logistics-Hamburg Visit CSS India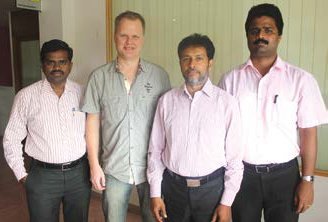 Winfried Prignitz, Division manager sea freight & air freight IGS Logistics Group visited CSS office in Cochin. The IGS Group is one of the largest German logistics services provider with over 30 yrs of experience in optimizing logistics operations globally and are having offices in major cities in Germany.  CSS Tirupur already enjoys a long time healthy business relationship with this German giant and offers total logistics solutions including door deliveries in Germany. Team CSS welcomed Winfried Prignitz on his visit to India. Both companies discussed various opportunities for enhancing the existing business trade lanes and conducted joint sales meets for strengthening business.