Lighthouse - March, 2014.
Intermodal South America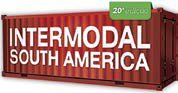 With a history of over 20 years, Intermodal South America is the 2nd largest event in the world in Logistics, Cargo Transportation and Foreign Trade.  CSS Group is delighted to be participating in the 20th edition of Intermodal set to take place at São Paulo Brazil, Transamérica Expo Center from April 1-3, 2014.
Siby C. Kurian, Sr. General Manager Sales & Marketing, CSS will be attending the exhibition.
Intermodal is set to display over 600 exhibitors from around the world, presenting new products, the latest equipments and technology innovation and a vast conference programme, providing a unique opportunity and experience for more than 48,000 professionals.
"Intermodal Transport Exhibition is the leading exhibition and conference event for international trade, logistics, transport and cargo handling. By regularly participating in Intermodal it has given CSS a cost-effective investment to generate new business and strengthen its communication and brand strategies. Brand positioning opportunities in Intermodal South America play a great role in maintaining market awareness in an increasingly competitive industry," added Siby C. Kurian.