Lighthouse - June, 2011.
Monsoon Tourism In Kerala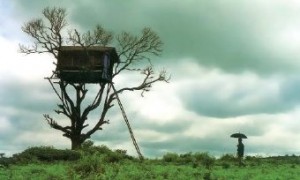 Monsoon the word itself makes one happy. The intoxicating smell of the dry earth getting drenched, the splashing waters and the tiny paper boats sailing on the clogged water make monsoon the favorite season in India. After the long summer months when the heat and the dust ruled the roost, the monsoon is a welcome change. The farmers rejoice in the showers that promise to bring them prosperity.
Monsoon, the season of rainbows and raindrops is certainly not to be wasted indoors. The very special season of the year, monsoon brings everything to you fresh. The washed streets and the fresh leafs seem to smile with you. Monsoon is certainly not only about getting all dressed in rain coats, monsoon is a fun time. Getting wet, splashing and swimming or wading through knee deep waters, sailing paper boats are some little deeds you may indulge in.
All over we can see the joy of monsoon on everyone's face. Kids dancing on streets, elders enjoying rain from the sit-out of their house and women preparing hot tea and coffee for everyone in the family are symbols of first monsoon rain. And what else, the people sharing a common umbrella on the public place. Feel the magic of monsoon…
Traditionally, the advent of the monsoon has meant a sharp fall in the number of tourists visiting Kerala. Monsoon in Kerala is the most enchanting season in India.
You may try out an ayurveda vacation in the monsoon too. The best way to rejuvenate your soul and replenish your body, ayurvedic is a great option for monsoon. Monsoon is a season for rejuvenation, when the people take special diet and ayurvedic therapies for rejuvenation and longevity. According to ayurveda, monsoon is an ideal season to take treatments for various diseases. The equable climate during monsoon and natural abundance of herbs and medicinal plants in its flora, Kerala is fast capturing the attention of International Tourists as a prime destination to visit during the monsoon season.
Moreover a 'monsoon food festival', a music festival and a theatre festival are just some of the events being planned during the monsoon season.
The romance of the monsoon, with its abundant rains and lush green landscape that has been rhapsodized down the ages in verse and song, can be promoted as a "unique" tourist attraction.