Lighthouse - July, 2015.
Performance Excellence Award
CSS RECOGNIZED ONCE AGAIN BY SAFMARINE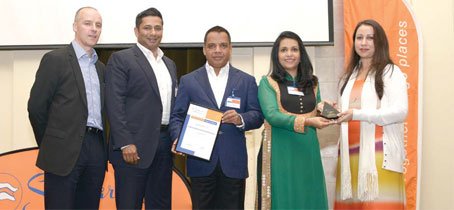 "Every honour is a reminder that you have been noticed amongst your partners within the industry. I believe that this brings in a feel of additional responsibility for the deeds you are involved into. Thanks a lot to Safmarine for recognizing our services" mentioned T S Kaladharan, Chairman CSS Group while receiving the customer award from Safmarine.
CSS was recently honored at the Customer Award Night by Safmarine, at a dinner held at the Shangrila Hotel, Dubai, UAE on April 13th 2015. The function was attended by the Chairman of CSS Group T S Kaladharan, Ajay Krishnan Senior General Manager Freight Forwarding and Key Information Department (KID) and Raufa Sheikh, Manager Pricing and (KID). The award was presented by Mr Stephen James Brodie, Commercial CFO- Copenhagen, Safmarine
"It's a great pleasure for Safmarine to celebrate the customer service award in style and honour our valuable partners during this event. The growth of both the CSS and Safmarine together to achieve greater customer service excellence proved to be an encouraging factor for us and we cherish the relationship. The hand in hand work was always a key factor for the accomplishments of both the entities", commented Seema Nair, Managing Director, Safmarine.
The recognition of this award was for the growth and consistent performance for the fiscal year 2014 and it is the third consecutive year that CSS has been awarded by Safmarine. "It's a great honour and achievement for CSS Group. By this, it has been proved once again that trust and confidence amongst partners could bring in greater rewards in the business and we believe that such recognitions would definitely cement the relationship between both the entities in the future as well." added Ajay Krishnan, Senior General Manager, Ocean Freight, CSS.
Safmarine is an international shipping business offering container and break-bulk shipping services worldwide. Formed in 1946 by South African industrialists and American ship owners, Safmarine is now widely known as a north/south trade and African specialist. The line is represented in more than 130 countries throughout the world, with more than 1200 sailors selling their services.
"It's been a wonderful journey together for 3 years and we are proud for this trusted relationship with CSS Group. Both Safmarine and CSS Group has taken strenuous efforts in the industry to develop our business to reach far and wide in the global shipping and today we both share a wonderful feeling to have this achievement", added Sanjeev Saraf, Head of Commercial, UAE, Safmarine.