Lighthouse - January, 2013.
Pilot Visits CSS Delhi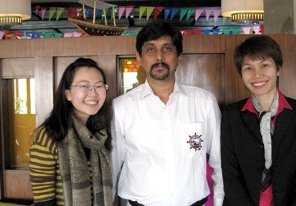 The delegates from Pilot Logistics Co Ltd from Bangkok visited the CSS Delhi office. The delegation comprised of their Overseas Manager, Pinijnan Sukasemsarn and the Sales Manager, Peeraporn Ketsak who held discussions with the CSS Delhi team led by Rajesh Arora, Vice President. CSS is already enjoying a working relation with Pilot for the movements of their LCL shipments from Bangkok to New Delhi through FPS Singapore. For enhancing a more professional and result oriented relationship, the two companies met in Delhi and discussed all the matter.  They also intend to develop a direct trade lane from Bangkok to New Delhi with this meeting. Pilot Logistics is a Bangkok based NVOCC Company and is a part of FPS network. They are very strong in handling LCL, FCL and air cargo from Thailand to other worldwide destinations.