Lighthouse - March, 2011.
Ritchie Bros. Auctioneers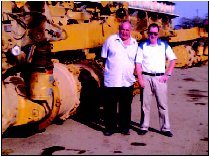 Cargo On The Move From India To Dubai VIA CSS

CSS Group was recently appointed to secure a suitable vessel to load and ship a large shipment of 777 Caterpillar machines ex Mumbai to Jebel Ali (BREAKBULK) on behalf of Ritchie Bros. Auctioneers. Due to the cargo being time sensitive,  the cargo was required in Jebel Ali for a major auction. It had to be completely  dismantled, trucked from Hyderabad to Mumbai in order to meet a specialized CSS Chartered vessel at Mumbai port. This encompassed a considerable amount of preparation work to secure the right vessel tonnage, on behalf of our client, capable of being able to accommodate 777 Machines, which are some of Caterpillar's largest dump trucks. Also CSS executed the complete coordination with the suppliers for the transportation across India as well as export documentation, the port, the police, the border crossings and then the actual vessel loading.  This was done with the help of CSS India offices and coordinated the entire project out of head office in Dubai.

The vessel was sourced and secured through reputable brokers and all relevant subcontractors were pre approved by the CSS Group in order to ensure that physical transportation was handled and the actual vessel loading. The CSS Group Team right from the Chairman to the Senior Management oversaw all infinite details in each and every step in order for Ritchie Bros to focus on the auction aspects as opposed to the actual shipping aspect. This was done through the specialist CSS Project Division which is now rapidly becoming one among a few project forwarders who is specializing in the international movement of heavy machinery using their own regional offices combined with our international partners. In fact moving heavy machinery across the world is what CSS Group do well i.e. shipping new and used mining machinery, construction earth moving equipment, cranes, plant equipment/machines exploration and drilling equipment as well as agricultural machinery, every day of every week. Whether you are shipping a Caterpillar dozer, a Hitachi excavator, a Komatsu dump truck or a Tadano crane, the very experienced crew of projects department knows exactly what is required to transport your heavy equipment in the safest and most economical shipping configuration.

CSS Group maintains an extensive technical database with machinery specifications of nearly all major earthmoving, construction and mining plant and equipment. This means our customers don't have the hassle of having to provide technical drawings or machinery spec's whenever they are shipping machinery internationally. The operations crew of CSS boasts average industry experience exceeding 20 years per person.  A third of the crew has more than 25 years experience, much of that time directly involved with shipping heavy equipment using scheduled RORO Services specialized break bulk and container vessels  and dedicated charters for larger parcels.

Whether it's CSS Group or one of the competitors, we strongly recommend using heavy lift specialists when moving your valuable heavy machinery and other challenging cargoes, internationally.

For any enquiries about shipping various types of equipment, construction machinery and all types o f earth moving machines, transporting drill rigs, relocating a drag line, decommissioning a mine, relocating a manufacturing plant, repositioning military equipment, importing farm machinery, exporting generators or simply moving very big things the crew at CSS Group will always consider it as pleasure and great opportunity to handle this with utmost care. CSS Group is your service provider in this sector Door to Door worldwide.

Please send in enquiries to infoprojects@cssdubai.com.