Lighthouse - November, 2010.
Seeking Success ? Then Understand The Importance Of Sales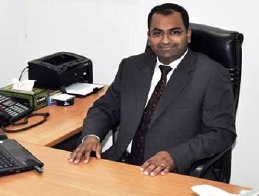 With over 8 years in the organization, Siby C. Kurian has been a key player of CSS Group's aggressive sales strategy.

Sales is a vital component to the success of an industry, regardless of the type of industry (i.e. service, manufacturing etc.) or location. In economics, sales are the activities involved in selling products or services in return for money or other compensation. However as economies have grown and become far more competitive this definition is not as simple as it was a few years ago. Sales in the shipping industry, like any other competitive global industry, relies on specific personality traits and complete business know how to be successful. Nowadays it is not enough to be knowledgeable about the business, to a prospective client one must be honest, must hold a deep regard for the needs of the client and most importantly must deliver the service at the end of the transaction in the most efficient and effective way as possible.

Having been in the company for over 8 years, Siby has set the bar for sales achievement within the CSS Group. Talking about the importance of sales within the CSS Group "Sales is one of the most intergral part of any business. However there are many components to sales that are often ignored; for example the importance of sales forecasting in any business, which allows a business to identify future areas of profit for the company."

Business sales skills are a little bit more advanced, as you will be dealing with large corporations where sales pitches are delivered in meetings to a group of potential investors or clients. In this instance, sales skills are not just important, but they are vital. Imagine walking into a board room full of people who are all there just to listen to you. How do you command the room? How do you initiate conversation and begin your presentation? What do you wear? How do you walk? Do you look people in the eye?

Siby recounts his first sales pitch in CSS Group, almost 8 years ago and gives newcomers a few helpful tips. "Its only natural to be worried before meeting your first client, everyone is! The trick is to act out the situation the prior day, and most importantly know the business, as you don't want to seem surprised when asked a difficult question by the client. Once you gain the trust of the client it is also vital that you nurture and grow that trust as client recommendations are an important factor in meeting sales targets."

Achieving sales in today's harsh economic climate is not easy, but many people are selling. To help you out we listed out what some experts feel are the four most important tips to selling better.

Buyer-Seller relationship

The problem with many sellers are that they really don't care about their clients and they are more concerned in making a sale. Good sellers understand the value of walking through the entire sale with their clients from start to finish. They don't just push these people to make a purchase instead; they work together with these people to find solutions to their problems. As a result, they are able to earn the trust of these prospects and they easily convert them to buying customers.

Sales call planning

It is very important that you have specific action plans or an effective selling process. You need to know what to do when and what to do next. An effective sales process looks like this; initial contact, meeting with decision-makers, proposal meeting, sales presentation, and delivery.

Questioning skills

As a seller, it is very important that you know the right questions to ask to discover the needs and demands of potential client. This is very important when your prospects are unable to properly communicate what they are looking for. Keep in mind that poor questioning will not help you properly identify the needs of your potential client, therefore when you return with a proposal it will most probably not be converted to a sale.

Presentation skills

You need to have great presentation skills to influence the buying decision of your prospects. Don't forget to communicate all the benefits that your products can offer. Also, make sure that your presentation is interesting and engaging so you will not bore your audience.
So on behalf of CSS Group. Happy Selling!