Lighthouse - November, 2014.
Sledging is not Just for Children…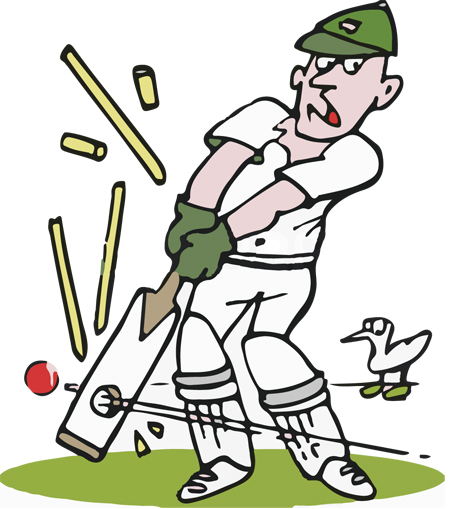 When I was a youngster I spent many happy hours, with my friends, building a sledge out of bits of wood. Somehow we managed to fly down slops, in summer sledging over short grass and in winter across firm snow, without breaking our necks! However, in recent years,'sledging' has gained greater prominence with cricket aficionados.This term apparently originated in the 60's when Australian bowler Grahame Corling wasserenadedby some players singing 'When a man loves a woman'- at that time a hit by USA soul singer Percy Sledge.  It was attempt to taunt Corling so as to distract him from focusing on his play. Since then this practice, of trying to weaken an opponent's concentration, has taken on the surname of Percy Sledge by being called 'sledging'. Other sports have methods of distracting a competitor's attention but the technique in cricket is unique. To understand thisit is necessary to explore cricket's history. Despite the apparent recent popularity of sledging, the practice of witty banter between players is as old as cricket itself. Therein lies the difference between cricket and other sports. Ever since John McEnroe's infamous outburst, on the tennis courts in Stockholm in 1984, the nature of goading in sport has risen to a level at which no genuine cricket fan would approve. The reason for this is based in cricket's past.  The first recorded cricket match took place in Kent, England in 1646. The game quickly became popular with the first 'laws of cricket' being established in 1744. The thrust of them focused on "gentlemen" playing the game. Subsequently conduct, on and off the pitch, required that all participants, players and spectators, behaved in an acceptable gentlemanly manner. Honour and integrity were at the forefront of play. A player never argued with the umpire. If you were given out – you walked! Generations of UK schoolboys had it drummed into them that,even if you felt you had been wrongly dismissed, you did not argue with the umpire's decision. It probably made-up for all the times you should have given out and weren't! Accordingly gentlemanly conduct ruled supreme. There is now an on-going debate, in the cricketing world, as to what constitutes poor sportsmanship or good humoured banter. Anything which descends to abuse is unacceptable. This is not what sledging is all about as it should never cross the sportsmanship line. Sledging should be kept to humorous, sometimes slightly off the wall remarks and clever verbal attempts in order to distract an opponent.
Sledging has always been a part of cricket as even the legendary W G Grace did it. Grace's determination to stand his ground would have made Sunil Gavaskar proud. When a ball knocked off one of his bails Grace replaced it and told the umpire that it was the wind which took the bail off. The umpire replied, "Indeed Dr. Grace and let us hope the wind helps you on your journey back to the pavilion". Grace walked with good humour.
Interestingly it is usually accepted that Indian cricketers, unlike the Aussies who love it, don'tsledge very much.  There is one notable occasion, when the tables were turned and Ravi Shastri sledged Mike Whitney who was the Australian 12th man. Trying to snatch a single run Whitney shouted, "If you leave the crease I'll break your blinking head". Shastri quickly retorted, "If you could bat as well as you can talk, you wouldn't be the blinking 12th man".  You do, of course, have my permission to assume that the language used was slightly more colourful!
I always prefer and chuckle at the short, sharp retorts. This is why I choose, as a favourite, one from'Fiery Fred' Trueman probably the most revered English bowler. As an Australian batsman was walking onto the field, he opened the gate and before he could shut it, Trueman shouted, "Don't bother shutting it son, you won't be here long enough".
Cricket remains a game where many of us still hope our children are taught that it is not winning that counts the most.  Rather it is playing a sportsman-like match which matters more. An extract from a poem by former UK Prime Minister John Major, an ardent cricket enthusiast, sums up this cricketing ethos. It was written as a tribute to England test cricketer, Colin Cowdrey, who was born in Bangalore.
"The mellow sound of bat on ball,
The wherewithal to enthrall,
The master with a Corinthian touch,
To whom victory mattered, but not that much".
Hopefully, with this in mind, you will agree that sledging should remain as witty banter that enhances the traditions of the cricketing spirit.