The slow rise in imports is not an immediate relief for the already congested US ports. US retailers expect sense to pick up in the first half of 2022, unlike the quicker pace of the previous year. However, even slower growth on top of already historic volumes means ports are unlikely to see much relief in clearing cargo backlogs.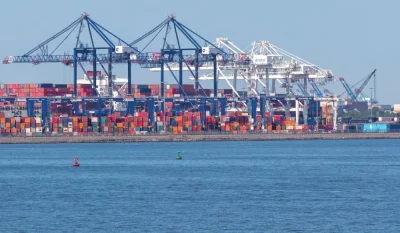 Ben Hackett, the founder of Hackett Associates and co-author of Global Port Tracker and National Retail Federation, said, "A shortage of equipment, worker availability and storage space at distribution centers and warehouses across the country remains problematic as does the export of empty containers back to Asia."
Additionally, the monthly import volumes in the future are complex due to vessel backlogs at significant gateways on the West and East coasts. The delays in vessel berthing arise primarily because few containers are on idle vessels. Though the Global Port Tracker (GPT) stated that the December imports are set to increase by 3.7 percent in 2020, the imports fell by 1 percent. The January imports were projected to rise by 4.4 percent compared to 2021, while February is projected to increase to 8.7 percent due to the pre lunar New year rush. As the first six months of 2020 had plunged due to Covid 19 related closures of factories in Asia and lockdowns in the US, the first half of 2021 showed an import surge of 35.7 percent. The US imports market is projected to increase 1.5 percent in the first six months of 2022 compared to 2021, while March projects a drop of 6.7 percent in US imports owing to the Lunar New Year holidays in Asia when factories are normally closed. However, April is set to see an increase of 2.2 percent, while May is set to fall by 2.6 percent before surging to 5.2 percent in June. (Numbers courtesy: Global Port Tracker)
PILING BACKLOGS
The Los Angeles Long beach was recorded as the most congested US port complex, with 34 of 78 vessels waiting within 25 miles of the coast and several following slowly. The Marine Exchange of Southern California recorded this container ship backlog. Hackett says, "Backups cannot be erased quickly as long as terminals continue to face a lack of space brought on by the supply chain's inability to efficiently transfer cargo out of the terminals to its end destination."
According to PIERS, US imports from Asia increased 14.4 percent compared to 2020″ A return to a more typical single-digit growth is expected this year given the much higher bar for imports that was set in 2021. The numbers remain high as consumers continue to spend despite Covid 19 and inflation. The slowdown in cargo growth will be welcome as the supply chain continues to adapt to the high volumes", says Jonathan Gold, the NRF vice president for supply chain and customs policy.