Lighthouse - May, 2016.
World of Knowledge Opened for the Little Ones
CSR @ CSS – New Library and Smart class for Govt. LP School from CSS Group Chairman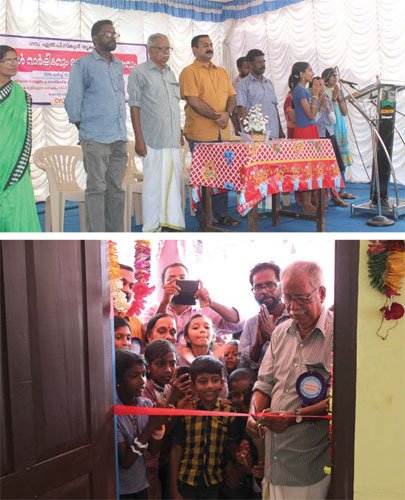 As part of the CSR initiative, CSS Group Chairman T S Kaladharan, sponsored a new library and smart class with a stock of books to the Lower Primary School at Thrikkunnappuzha. The library consists of a cross section of books from Children's section to the reference section which is required for the teaching staff.
A smart class was also constructed and inaugurated which will facilitate the teaching lab activities in the future. The library and smart class was inaugurated in a grand function which was organised within the school premises on the 10th March 2016. The library was inaugurated by renowned journalist and cultural activist Chunakkara Janardhanan Nair.
The function was inaugurated by poet Inchakkadu Balachandran whose poems had greatly influenced the malayalee minds. At the function, as per the request from the audience, he recited his own poem. CSS Group was represented by the Head of Marketing and Corporate communications, Unnikrishnan G.
P Ramachandran from the PTA and the School Headmistress M. M Sreedevi who were on the dais thanked T S Kaladharan for his donation. The entire function was well attended by the students and their parents.