Lighthouse - July, 2014.
Abras -The Traditional Mode of Transport
Cultural Corner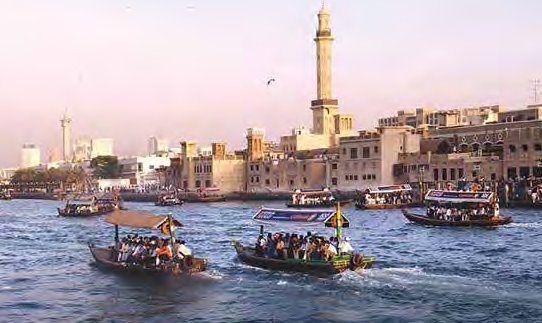 Forget the luxury yachts heading to Dubai Marina, there are other traditional ways of seeing Dubai and hopping on an Abra is one of the most enjoyable.
Taking an Abra is the most cost effective and enjoyable way to cross the beautiful Dubai Creek. The Abra has been an integral part of Dubai's history. It is a small motorized traditional commuter boat made of wood intended to travel across Dubai Creek, which in years gone by was one of the main modes of transport in Dubai.
It is still a vital mode of transport used by over 1 million people every month including local residents, business people and commuters trying to beat the traffic.
The Abra is now a well-respected tourist icon in addition to being a vital mode of transport. It's not uncommon for tourists to privately hire an Abra to further enjoy the stunning Dubai Creek scenery.
An Abra ride commences when the boat is full, normally about 20 passengers, the driver sits in the centre of the boat, whilst the passengers sit facing out, circling the driver.  The fare for an abra ride is about 1 Dirham per person and is paid to the driver. The journey to cross the creek will only take around 10 minutes and is used by about 42,000 people daily.
If you are the type of person who likes to immerse themselves in tradition then an Abra ride is a must. It will expose you to the lesser known side of hustling and bustling Dubai. As you step on board there is a genuine feeling of history.