Lighthouse - November, 2013.
CSS Projects, Oil & Energy Division Delivers Time Sensitive Cargo in Record Time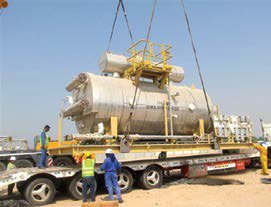 CSS Projects, Oil & Energy recently handled and successfully delivered 12 skids, each weighing more than 33 tonnes to their final destination in Yemen.  All of the 12 skids were loaded using 200 tonne cranes onto low bed trailers and were lined up in the loading area for onward road transportation.  The entire operation was undertaken and supervised by the CSS Projects team to ensure the project was undertaken seamlessly with no delays encountered as it was a highly time sensitive and critical cargo."The fact that the entire cargo was delivered to its final destination in 9 days is evidence of the hardwork and commitment the team at CSS Projects puts in regardless of the type of cargo, or its final destination. I would like to extend congratulations to the entire team for a job well done," said Raj George, Senior VP, Projects, Oil & Energy, CSS.